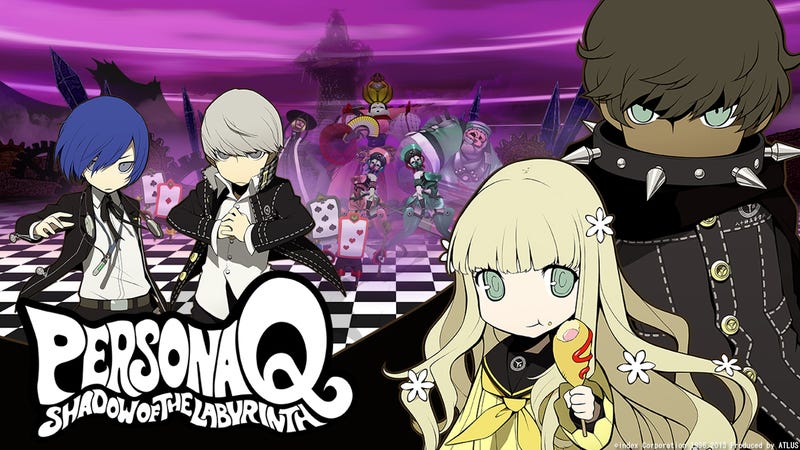 Thanks to an article in this week Famitsu Magazine we get to know more things about 3DS upcoming Persona series spin-off title, Persona Q: Shadow of the Labyrinth
New Gameplay Details
It seems like the other Persona 3 and 4 party members (aside from the Main characters) can now use alternate Personas. They're referred to in the magazine as "Sub-Personas;" whether that's just a means of differentiating the other Personas from their main ones or there's something more to it isn't stated. Apparently in the story they gain this power somehow by way of the two protagonists meeting each other. Details are scarce beyond it having something to do with their Wild Card power allowing it to happen.
Boost meter is built up by exploiting enemy weaknesses. Characters who manage to enter a Boosted state can on their next turn use their skills for free and, apparently, can jump ahead in line in terms of attack priority. The terminology is a bit vague.
Follow-up attacks that are performed when another character has taken their turn and All-Out Attacks have a higher chance of triggering as more and more characters enter a Boosted state.
Party chatter between members can change depending on who's fighting with you. It's not clear if this is just for battles or if it can include conversations outside of fights, too.
In addition to this Atlus will release a limited edition 3DS XL bundle for Persona Q: Shadow of the Labyrinth in Japan.
You can get more information on the limited 3DS XL version over here.
Additionally, the company announced first-print copies of the game will include a special Atlus Sound Team arrange soundtrack called Persona Q: Sound of the Labyrinth.
_________________________________________________________
Update: Aside from all the information about the game that Famitsu is releasing, they also have announced the release of a special "Famitsu DX edition" of the game. This pack will include:
A B2-sized tapestry drawn by the anime cutscene staff
A poster drawn by Atlus
A five-piece clear paper filer set
A mug
A papercraft version of Persona newcomer Rei
Also we got n pointing out that the game will be more like Etrian Odyssey, including the dreaded Field On Enemy-type (F.O.E.) adversaries and although defeating one yields great rewards, it's said that they're best left alone until your party can confidently take it on. That being said, Famitsu notes that the difficulty level in Persona Q can be altered at any time, ensuring that no hurdle is ultimately too great for players. The map-making feature that should be familiar to most anybody who's previously played an Etrian Odyssey game is also a element of the game.
Videos:
Atlus just released a pair of long trailers (these are the third long ones) for the game and they come as a pair, one featuring the protagonist Persona 3 (We can see that his name in the game seems to be Minato Arisato [有里 湊]) and the other featuring the protagonist of Persona 4 (His name in the game seems to be Yu Narukami [鳴上 悠])
Persona 3
Persona 4
Also if you check the official website, you can see the characters of each game. (the ones with a link comes with the corresponding Character Video, I'll update the links for the videos once they are available). The game was also featured in the latest Japanese Nintendo Direct, you can check the video here.
Original Characters: Rei and Zen
Persona 3 Characters: Minato, Mitsuru, Yukari, Akihiko, Junpei, Aigis, Shinjiro, Ken, Koromaru, Fuuka (Theo and Elizabeth are still obscured)
Persona 4 Characters: Yu, Yosuke, Yukiko, Chie, Teddie, Kanji, Naoto, Rise (Margaret and Marie are still obscured)
Also if you missed the first and second long PVs of the game you can check them here and here respectively (the second one was the one with the Catherine Cameo). As you can see some of these videos have been featured in Kotaku. Also for more details, you can check this.
At the moment, Persona Q is only announced for Japan, where it arrives on June 5 2014. Here's hoping for a localization announcement soon. That was indeed soon, the game has been officially announced for localization. No exact date revealed but a fall release is expected.
Sources: Official Persona Q Website, pepsimangb tumblr, koi-nya, AGB. The Top image comes from here. The scans comes from here.