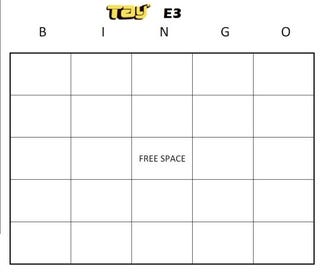 OK GET HYPE! (as your free space)
Here's a list of possible squares. Feel free to make up more tho.
Pokken Tournament revealed
Game freezes during prestentation
bad rape joke made
Majora's Mask remake announced
Microsoft announces Kenict game before re-announcing their Kinect-free Xbox One
Ubisoft announced brand new Tom Clancy game.
Uncharted 4 footage shown. Nate is now a dad.
No word on Half-Life 3.
Half Life 3 IS announced. (lol Valve isn't even there)
New Duke Nukem announced.
New Metroid game announced for 3DS.
Reggie wears a Majora's Mask pin at some point
Sony announces exclusive FPS that isn't Killzone.
Microsoft announces exclusive FPS that isn't Halo.
Sony takes a pot-shot at Xbox One minus Kinect. Not nearly as clever as they thought.
Made up words are used to explain stuff.
Hype (instead of free space)
Gameplay for Metal Gear Solid V: Phantom Pain with no date.
New God of War for PS4. Nothing more than a teaser and hardly an information
Big announcement for cross-platform Vita and PS4 game.
LittleBigPlanet Karting 2.
Continuation of Heavenly Sword Trilogy.
Vita TV gets a western announcement and date.
The Last Guardian gets a firm release date for PS4.
The Last Guardian gets no mention. Sony issues quiet cancellation announcement post press conference.
LittleBigPlanet PS4.
Playstation Now announcement and info.
Playstation Now + PS Plus integration. Bundle and save (like cable)!
Microsoft announces disc release of Killer Instinct.
Microsoft Announces Killer Instince Season 2
Microsoft announces new Banjo Kazooie Game.
Kameo 2.
Fallout 4.
New Gears of War announcement. Nothing more.
Microsoft unveils Xbox TV and it's new programming. Halo, Forza, etc.
New Metroid. Hope to god it's not Fashion Designer: Metroid
New Crackdown.
Proper Fable sequel. 2015.
Resurrection of Project Gotham Racing.
PGR x Forza. Weather effects, night/day racing, style points, motorcycles, ALL THE TRACKS.
EA announces Burnout game to fill in for Need For Speed for this year.
Ubisoft announces Pirates: This Has Totally Nothing to do With Assassin's Creed The Game.
New Star Fox. Includes on foot and sky action.
Nintendo ditches the tablet controller and announces cheaper SKU
Nintendo keeps the gamepad and announces their NFC Figurine collection to work in conjunction. Highlights series 1 of figures
Sony announces a Crash Bandicoot/Spyro game, PS exclusive
Kevin Spacey joins the show floor at Microsoft's press conference to discuss Future Warfare
Vita TV comes to the west.
Sony officially announces Demon Souls 2
Trailer for Deep Down and some sort of release date
More info on Project Morpheus
Iwata says "Please Understand"
Aisha Tyler gets #girlwood
"Visceral" is said too much
Visceral is replaced by a new marketing buzzword
Sonic Boom dubstep trailer
"FALCON PUNCH!"
"My body is ready"
"Hideo Kojima" appears on a trailer (not the studio/Fox logo)
Ads for soft drink/junk food are randomly inserted into presentation
More at the TAY Predicts Microsoft, Sony, and Nintendo pages.
So open paint and put text in already! Or be awesome and convert it to a .doc or something. Upload when done.