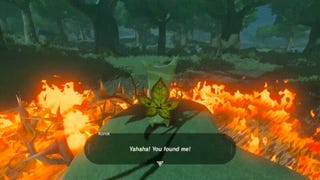 Welcome to the Open Forum, hosted by Kotaku's reader-run blog,TAY. Feel free to join in the topic discussion, talk about anything here, or check out the other articles on TAY, AniTAY and TAYClassic Is this is your first time on TAY? Then scope out this TAYTorial!
I heard it's cold up north, TAY. I thought why not make a OF to appease to our northern audience, afterall I did the reverse case a few years ago, when El Niño brought heat waves during the winter of 2015. Imma bring some of that southern heat to bless your life, or in my case my trademarked calor latino.
So put on your dancing shoes, blast out Hyrule's Summer Jam and get the blood flowing through your veins, cause today's OF is HOT HOT HOT!

I guess that when it comes to video games and music I can't never get enough, as evidenced by the fact that this is my fifth OF where I excuse my lack of topic by talking about music. But to be honest, it would be a disservice to the talented people that create the tunes to our favorite worlds.

And I wish I could just take this opportunity and post a list of songs that are full of heat, but alas, this is not the place. But we can still talk about those songs, right?

So for today's OF, let's talk about music:
Hot songs, they're... well, hot. What's your favorite hot song?
How about a song that makes you feel like dancing?
While working out is not dancing it definitely gets your blood pumping, what is your go-to workout song?
And if you're like me and the heat makes you lazy... what is your favorite lazy song?
Today's Jams will try to fit in as many categories as possible:
Dance/Workout
Hot/Dance/Workout

Hot/Dance/Workout/Lazy
As always, feel free to Talk Amongst Yourselves if that's what you're into. Don't forget that the Discord Chatroom is always around too for continuing, real-time conversations. If you wanted to give an admin, author, and/or friend a shout to tell them you love them and appreciate their internet availability: You can find them on the DirecTAYry.