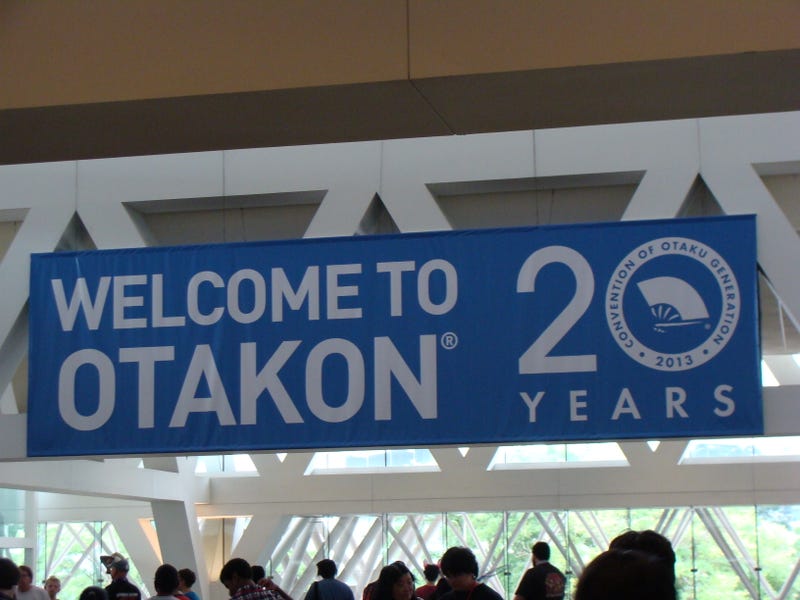 I had a personal blog a few years ago, and one of the very few times I wrote on it, was a post called, "Home." It was about Otakon. There are not enough words to tell you how much this convention means to me. But this year I saw the con without rose-colored glasses. I still loved it, but I'm starting to see the faults.
Let's start at the beginning...
Preregistration is a big thing at Otakon. You register online and then come on Thursday before the con even starts to get your badge. And every year I wonder about badges. They always have different designs, usually with popular anime, and this year didn't disappoint.
God, that picture is blurry. Also, don't ask for them by number. No one knows the numbers.
I choose SAO, because I do love it. I was tempted by Free! (because those bitches are fabulous) and Oreimo (because I started watching it and enjoy it).
But this trend of up-to-date anime was sadly missing other places. None more obvious than in the Dealer's Room. Everything being sold felt like it was just left over stock from last year. There were a few Attack on Titan things, some Free! body pillows, and a few SAO figures, but that was it. I was looking for something new and exciting all weekend, and I didn't find it.
One of the few Asuna figures...it was homemade.
But the lack of new things didn't stop my husband and I from raiding the Dealer's Room.
Our loot...

Just for reference, the Monster High doll is for my daughter. She's obsessed.
My favorite part of that pile is this...
A special SAO/Otakon collaboration done by the artists of the anime.
While the Dealer's Room was awash with older things, the Artist Alley didn't disappoint. I even found some chibi Ouran buttons.
OK, so Ouran isn't the newest either, but I had to take a pic of this.
As they say, "The best things in life are free," or you know, free with an Otakon membership. And all those not-really-free things didn't disappoint.
Friday granted me an opportunity to meet one of the most amazing people in the world: Shinichiro Watanabe A.K.A. That Guy That Made Cowboy Bebop/Samurai Champloo/Kids on the Slope.
Got him to autograph my convention booklet. I didn't know he was going to be there, so I didn't bring my Cowboy Bebop collection.
While I didn't get to go to the Yoko Kanno concert, since it was almost impossible to get tickets, the Home Made Kazoku/T.M. Revolution concert did not fail to be amazing.
This is the only pic I snapped and that was on the sly. They were tossing people out for taking pictures.
I have a special place in my heart for Home Made, because they were the first Japanese band I saw and I actually knew their music. That was at Otakon 2010. To see them again, was just icing on the cake. They put on such an energetic show, that it's not hard to get caught up and end up jumping and dancing. And T.M. Revolution was a ball of energy as well. He had the habit of removing clothes that became slightly alarming, but he kept his skirt on so I was good. (Yes, a skirt. He's weird. But a great singer and proformer.)
On Sunday, I finally saw Howl's Moving Castle. Seriously, the first time I saw it. And to experience it on a giant movie screen was an amazing experience. We liked it so much we stayed to watch the first four episodes of Attack on Titan on the same screen. I had only watched the first two episodes before, so to see that it had a light-hearted side was nice. And then the bomb they dropped at the end of the fourth episode...let's just say I'll be forcing my husband to watch episode 5 tonight.
While Otakon had it's ups and downs, and it will always have a special place in my heart, it's nice to think of TAY as my home as well. I couldn't wait to share my experiences with you guys. I hope you enjoyed.
But wait Damson! Where are the cosplay pics! And some of the other things you saw!
They are on the way. I promise. :)