Ummm. So...apparently tonight we're watching Hobo with a Shotgun which was voted on by you lot.
...
The gifs I stumbled upon were not shocking being that this an exploitation action film in the style of Grindhouse features but yeeeeaaaah. Be ready for gore, gore and more gore?!
...Says the person who wanted us to watch Dead Alive.
Brief Synopsis: A homeless vigilante blows away crooked cops, pedophile Santas, and other scumbags with his trusty pump-action shotgun.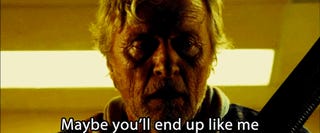 Join us tonight at 9 p.m. EST in the AIM Chatroom! As per usual, I will be hanging out around 8:30 p.m. to usher any new comers to the chat. Just send a message to Zarnyx or Zarnyx Uriel and I will get you added.
Hope to see you there!