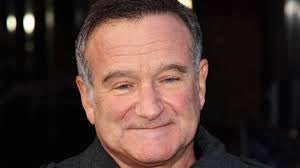 When my mother told me a few hours ago that one of my favorite actors and comedians, Robin Williams, had died, I couldn't believe it.
I still can't believe it.
Growing up in the 90s, I felt like I grew up with Robin and his many roles. The Genie in Disney's Aladdin is up there, but there's far too many memorable ones to count. Even though he's mainly known as a funny man, his dramatic roles were just as brilliant. Dead Poets' Society is one of my favorite movies.
Also, he was a big fan of video games. He's been seen at E3 several times, and of course, there's his daughter, Zelda, named after his favorite game franchise, The Legend of Zelda. He even appeared in a commercial for Ocarina of Time 3D with Zelda.
Robin was absolutely one of a kind, and he will most certainly be missed. Now, if you'll excuse me, I need to decide whether to watch his excellent standup or one of his classic movies like Flubber. Flubber sounds pretty good.