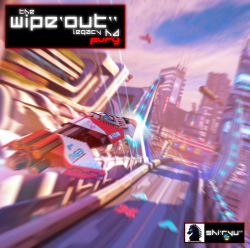 Butterflies. Fifteen years I have been at this and I still get butterflies in my stomach on every release day. It's my pleasure to bring you today the result of (way too many) sleepless nights over the past month. "The WipE'ouT'' Legacy HD FURY" is a three disc, twenty four track special edition due tribute album to Tim Wright, Psygnosis, The Designers Republic and of course Wipeout. Please choose a flavour to grab my latest release from the options below:
Free MP3 Download - Bandcamp Lossless Purchase - YouTube Stream

In case you missed the announcement last week, here is the reveal trailer. Feel free to use the original 2012 tracks (disc 1) or the all new 2014 remixes (disc 2 and 3) as custom soundtracks to your Wipeout games on PSP, PS3 and Vita. In fact, I think they work well on any racing game or at least that was always what I was aiming for with this album. Even without any game related hijinks, if you're into the 90's dance/trance/techno vibes of the pre-dubstep age of electronic music, I think you will enjoy this one.

That's all for now. All the latest news at Shiryu Music @ Facebook. Until next time: Play Hard, PLAY LOUD(er)!

OMAKE: One of the mini-posters inside the album art folder, proof I have waaaaaaaaaaaaaaaaaaay too much free time on my hands.