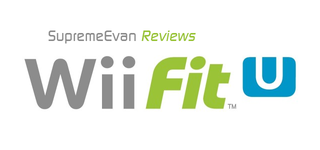 Nintendo is determined to keep their player base healthy and active again with their latest version of their Wii Fit games, Wii Fit U for the Wii U (cleverly titled, I must say). As always, the focus is on engaging the players to get off the couch and onto the Balance Board to take part in all sorts of fun physical activities.
The newest piece of hardware for the Wii Fit U is the new Fit Meter, built using the same hardware as the Pokéwalker (which, according to Iowa State University, is one of the most accurate pedometers available). This new pedometer accessory is, of course, able to count your steps, but it has the added ability to detect things like acceleration and even atmospheric pressure changes. That means you can link your activities with Wii Fit U and it will accurately be able to calculate how many calories had been burned while you were out walking the dog, jogging, or making a mad dash to the convenience store for Reese Peanut Butter cups (a man has needs!).
One of the expected, but welcomed, new features in the game is the utilization of the Wii U's GamePad controller. Like many other Wii U games, Wii Fit U allows you to use the GamePad to play without the use of the television. Is you significant other badgering you about hogging the TV and wanting to watch their soaps and/or local sports game? Fear not! There are all sorts of Wii Fit U actions that you can perform using just the GamePad.
For this review I've followed a similar breakdown to GiantBoyDetective's wonderful Lazy Sunday Reviews (I hope he doesn't mind), since it's an excellent way to break out the Good, the Bad, and the Ugly in a video game. So put your reading glasses on, because I like to ramble!
Nintendo knows that their consoles kill when it comes to party games. Why did they make it so annoying to play with friends in the last two Wii Fit games? Constantly switching between characters, or getting yelled at because you didn't switch and now you weigh 40 pounds more than you did 40 seconds ago. That's all in the past. This time around they've implemented a multiplayer option for people who like to act silly in front of all their friends (guilty!), and now the hyperactive balance board flipping around on screen won't yell when my wife steps on the board and it assumes I've lost a leg based on weight difference.
Speaking of playing with others, in the past games, everyone else could see you struggle and shake as you attempt to perform the Palm Tree Yoga pose (or any Yoga pose for that matter), but now you can watch yourself make strained faces too! I love this new addition, and even though I just joked about it, it's actually extremely helpful while you attempt to hold Yoga poses. Now you can actually SEE what you're doing wrong (or right), instead of waiting for the pose to end and being told that you were leaning too far back. All you do is place your GamePad at your feet and it points the camera up at you. You can watch yourself either on the TV or on the GamePad.
I really enjoy the fact that you can play on the TV or on the GamePad. Rather than take up the whole living room floor, I can move into the dining room or a spare bedroom and play Wii Fit U. You're not sitting on the couch to play this game, so it's not crucial to be in front of the TV. You can workout in peace (provided you're in proper range of the Wii U), and it frees up the living room for other people.
As expected, Wii Fit U returns to the fray with the some classic activities and balance games (Soccer Heading anyone?), and it's a great mix of old (both from Wii Fit and Wii Fit Plus) and new. Nintendo used this as an opportunity to upgrade some of the older games, while adding new and hilariously fun games too.
For example, the obstacle course is now MUCH harder, as you control the direction of your Mii based on the direction you're "walking" on your Balance Board. The immersion, although clunky at times, has improved between the player and the actions that appear on screen.
As for all those old balance games, a nice feature that is included in Wii Fit U is the ability to transfer over your old information from past games. All of those achievements and records can be moved from Wii Fit Plus to Wii Fit U (I'm not sure if you can move straight from Wii Fit, as I had Wii Fit Plus on my Wii).
Although it doesn't fall under "Amazing!" for me, the integration with the Miiverse is a nice touch. Within Wii Fit U, you can join a "Gym" which is a community inside Miiverse. I signed up for the Casual Gym because I don't get to my Balance Board everyday, but there are several different kinds of Gyms to sign up for that match your play style. Once in a Gym, several Miis can be seen in the background while you select your next activity. Tapping on them reveals their name and some of their recent activities.
Although I love the new games that have been added, and Nintendo did a great job of keeping the old ones that were the most fun, I'm still left wanting a bit more. It doesn't completely feel like a new Wii Fit game because so many of the old activities are still around and they outnumber the new additions (I felt the same with Wii Fit Plus too. If you're coming straight from Wii Fit, you'll be introduced to many more new features and games).
One more slight complaint from me is the use of the GamePad during activities. I enjoy the new features that utilize the GamePad, but plenty of the games told me to "set the GamePad" down. So I set the controller down, then look back at the screen and it's telling me to press the A button. But I just set the GamePad down! Don't tell me to do that and then require some sort of input from me!
After 9 minutes, I've burned off that tomato I ate just before doing this review. Nice! Once you've done an activity, it will tell you approximately, how many calories you've burned through. Then it gives you the option to hit a button called Calorie Check. You're greeted with a long list of food items and the average amount of calories you'll get from it. I'm pretty far away from the 500 needed for the BLT, but I'll get there… someday.
After 35 minutes playing, I had about 72 calories burned, and I had a blast. The best part about it? I get to play this as a month long trial. For any of you who have a Balance Board already, a month long trial of Wii Fit U is available for free in the eShop. If you play the game and are satisfied, you can turn it into a full fledged version of the game by simply buying the $20 Fit Meter. Getting a brand new Wii Fit game for only $20 is a steal, and for those of you who enjoyed WIi Fit and Wii Fit Plus, this is a definite must.

Note: I wrote this review while I played yesterday and today my legs are sore. That tells me two things. This game does a great job of getting your moving, and that I'm horribly out of shape.