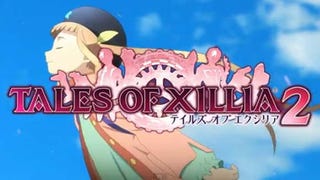 Great News for all of you "Tales of" series fans out there, this past few days at the Tales panel over at New York Comic Con 2013 Namco Bandai made some exciting announcements regarding the series, here's a recap:
Tales of Symphonia Chronicles Collector's Edition
It was announced at the Tales panel over at New York Comic Con 2013 that Tales of Symphonia Chronicles is getting a Collector's Edition (for those of you who don't know Tales of Symphonia Chronicles is a HD remaster of the PlayStation 2 JP only edition of the video games Tales of Symphonia and Wii's Tales of Symphonia: Dawn of the New World) and Namco Bandai has announced that they will be preparing 15,000 copies of such Edition so with some luck I can grab my own.
The images show at the panel are actually those from the Lalabit Market Edition however it says that the images are of the Japanese version of the Collector's Edition and the appearance of each item in the NA version may be changed without prior notice.They gave no news regarding when pre-order will be available, only to keep an eye on Twitter and Facebook.
They also said that the cameo costumes that were announced for the Japanese release (which by the way was released this past week on October 10th) will also be in the NA version, So far they have announced Guy Cecil costume for Lloyd and Luke fon Fabre costume for Genis.
Oh and also, it seems that the NA releases will be getting the Japanese opening themes. These are all the remixed versions of the original Japanese openings (Starry Heavens ver. 2013 and Soshite Boku ni Dekiru Koto ver. 2013 both by Day After Tomorrow and Ninin Sankyaku ver. 2013 by misono from Tales of Symphonia Game Cube version, Tales of Symphonia PS2 version and ToS: Knight Of Ratatosk respectively)
Tales of Xillia 2
Regarding information for the upcoming PS3 title Tales of Xillia 2 it seems that Tales of Xillia DLC costumes will be transferable to Tales of Xillia 2 and also they showed a new trailer for the game: here it is the HD version of the video
They also announced that Tales of Xillia has sold over 1 million copies worldwide which is a very nice number for a "Tales of" game
In other news HystericalGamez were able to get an interview with Tales of Series Producer and Gumdrops Lover Hideo Baba Check it out below:
It is a little lengthy so here is a recap for your convenience courtesy of AbyssalChronicles:
Despite Tales of the Abyss's popularity, at present there are no plans to remake it for a current gen or next gen console (i.e. HD)
They wanted people to have the as much of the original experience of Symphonia offers as much as possible for Tales of Symphonia Chronicles, hence a lot of parts in the game were kept in their original state, such as the level caps.
They'll certainly consider porting or remastering other titles if Tales of Symphonia Chronicles is successful. However, regarding Tales of Destiny and Tales of Destiny 2, those would be better off with a remake or would require a remake because it mainly uses pixels. At present, there are no plans for that, though.
Tales of Xillia 2 release date? "That's a secret for now!" But it'll definitely out for 2014.
Baba-san can't really pick a single Tales character as his favorite, but if he really had to choose, it'd be Leon Magnus from Tales of Destiny.
Baba-san makes a small laugh upon hearing "Tales of Zestiria." In any case, the "next title" is certainly in the works. We'll just have to wait for it.
When asked whether they would consider making more fighting-style games ala Tales of VS, Baba-san mentions that at present fans are asking more for story-driven games with unique characters, so there are no plans for now.
It'll be up to Nintendo whether they want to include Tales characters in Smash Bros.
___________________________________________________________
So yeah, this year is really becoming a "Tales of" filled year (albeit both games are going to be released on 2014) just as they promised, now tell me I'm not the only one excited about the announcements and frustrated that I couldn't be there.
Update: Added the HD video for the Tales of Xillia 2 trailer and uploaded a better scan of the Sympnohia Chronicles Collector's Edition
Bonus: In Japan Namco Bandai released Tales of Hearts R for iOS this past week and apparently they told no one, while here we're still waiting for the Vita to sell, for a chance on getting this game and Tales of Innocence R