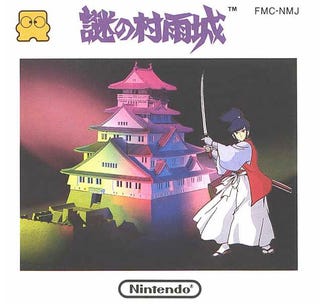 Good afternoon TAY! It's Friday! Rejoice... you won't see me until Monday!
I've been playing the Mysterious Murasame Castle on the 3DS Virtual Console for the last couple of days, for those who don't know about this game is... well a top down action NES game that was released only in Japan, until Nintendo for some strange reason decided to release it last month. Let me tell you guys... this game is tough! Enemies come pop up from every corner of the map, throwing fireballs, knives and other ninja stuff!
According to the Japanese eShop description:
このソフトは、1986年に発売されたファミリーコンピュータ・ディスクシステム用のアクションゲームです。

ある日突然、ナゾの生命体が村雨城と4つの城を謎の力で支配し、暴れ始めます。平和を取り戻すために、主人公・鷹丸は襲いかかる刺客を倒しながら、村雨城を目指して進んでいきます。タヌキや玉手箱から、火炎で攻撃できる「忍法火炎の術」や移動速度が上がる「忍法速足の術」など戦いを有利にする術が手に入ります。
Roughly translated by Google:
This software is an action game of the family computer disk system was released in 1986.

Suddenly one day, a mysterious life form is dominated by the force of the mystery 4 castles and Murasame Castle, I will begin to rampage. In order to regain peace, we will proceed while defeat the thug attacked hero-Takamaru, with the aim of Murasame Castle. Art from the casket and raccoons, and to favor the battle, such as "the art of ninja Hayaashi" the moving speed and the "art of ninja flame" that can attack the flame goes up will go into his hand.
And according to the American eShop description:
One stormy night in feudal Japan, a mysterious force begins to take control over Murasame Castle and its lands. Each lord in four neighboring castles has taken possession of a dark sphere of power, allowing them to summon ninja armies and monsters that wreak havoc in the villages.

Takamaru, a brave and young samurai apprentice, has been sent to investigate. He must infiltrate all four castles and defeat the lords before making his way to Murasame Castle. Use sword and shuriken attacks against the swarms of enemies, and unlock the secret behind the source of evil.
If you have a $5 credit available in your eShop and don't know where to spend it (I think it costs $5, I could double check but my 3DS is in my bag and I really don't feel like walking 10 feet), definitely give it a try, it's a fun and challenging game, like the ones they used to do in the past, and here's the catch this game was actually made in the past, you cannot go more authentic than The Myterious Murasame Castle.
News Round Up!
Super Shuffle!
Ain't that a Kick in the Head by Dean Martin
Spica Esquisse by Ryota Komatsu
Broken Train by Beck
Thanks everyone! Feel free to talk amongst yourselves and be sure to check out some of TAY's other great features: