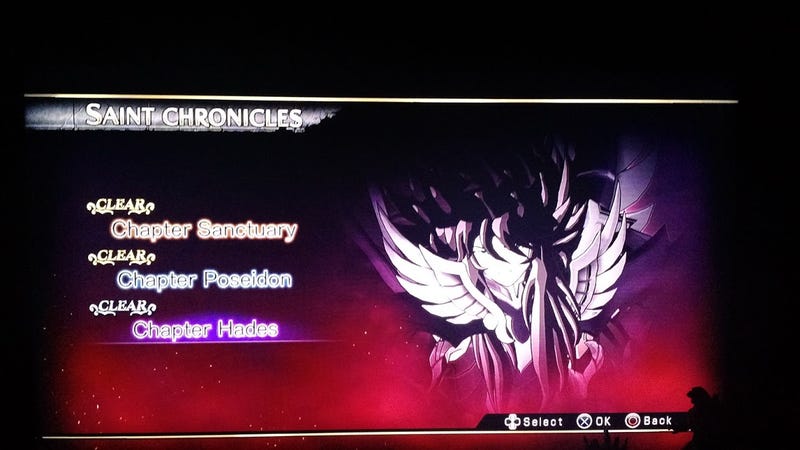 Bonjour TAY and welcome to the results of the TAY Game Challenge 7. I apologize for not reminding you more often about it but I was out of town for a week and was too busy to even get to the computer. Either way it looks like a handful of you managed to not only beat but write about those games you beat. Let's take a look shall we?

I finally finished Saint Seiya Brave Soldiers last night. I've been working on it since about May and while it's not the best game, being able to try out different Saints was neat, even though half of the damn character select screen is Seiya himself (or it feels like). Kinda excited for the new one coming out in the fall.

One of our resident bears, Novibear, seemed to find time in between pic-a-nicing and not mauling his dentist to not only finish Hyperdimension Neptunia U: Action Unleashed but to get a Platinum Trophy as well! Check out his post for some screenshots of the Game Industri girls as well!

Spacegar meanwhile went retro and got this beautiful starry sky for getting through Final Fantasy VII. You can read his rather verbose post about it here and bask in the glory of Meteor!
Resident Dad gamer and Weekend Warrior Datacide on the other hand, mulls over the disappointment that was Resistance 2 while his son was away. Also, he has a lot of shirts.
Zarnyx on the other hand decided to go all indie on us and play Hohokum. She can't quite explain what he all did in the game, but they sure liked it. See if you can make sense of her ramblings here.

---
So that's about it TAY. If you have a post you did that I missed or just wanna share which game you beat over the two week period feel free to post about it in the comments. Thanks for participating!!!
Honorable Mention: Neryl and Z for thinking they could beat the system but turns out they're not that good of a badguy.