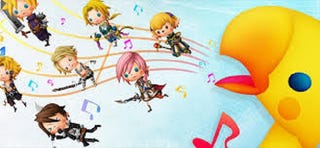 Hello everyone, and welcome to the Open Forum. This is a place to talk about life, video games, or anything else, so feel free to hop in and join in the discussion. When you're done, feel free to peruse the articles on TAY and TAYClassic. Is this your first time on TAY or the Open Forum? Then check out this handy TAYTorial! If you still can't get enough of us, stop by theIRC Chatroom. Finally, if you need to reach an admin or author, find them fast in theDirecTAYry.
Good morning and welcome to Tuesday. It's nice to actually be able to be here on the open forum, so thanks again Twiz!
I'm sick, so there's a good chance I'll be spending most of the afternoon lying around playing games, being looked over by my new six foot tall cardboard Link standup. I'm supposed to get Theatrhythm Final Fantasy: Curtain Call today, so that should keep me busy! With that and Persona 4: Dancing All Night, it is a good time for rhythm game lovers.
If you could get a rhythm game as a spin off to any series, what would it be? If you got no rhythm, create a spin off in any genre! Talk about this or anything whatsoever below.