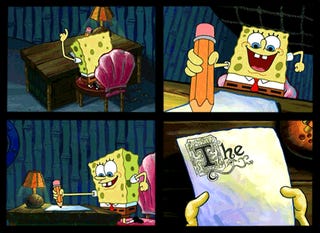 New here? Stop in and say hello, everybody is welcome! Feel free to jump right into the discussion topic, or comment about anything you'd like. To get more involved, check out our New TAYtorial! Want even more? Take a look at some of the articles on TAY or TAYClassic.
Hello, hello! I'm your Tuesday host, Spongebob Squarepants Tim Unimplied.
Been a fairly fun week at work— even got to make gifs this week! for work!— but now I'm back to pounding my head on the desk. Occasionally, it starts to feel like I'm not contributing much because so much of what I do isn't something you can really show to people visually.
Ever felt like Spongebob up there? What's something you worked really hard on (that came out well), but still feels like a small piece?
I realize this is a somewhat specific question, but do your best! If all else fails, you can always feel free to talk about what you like and ignore the topic— it's an Open Forum!