New here? Tired of lurking? Stop in and say hello, we don't bite (much)!Feel free to jump right into the discussion topic, or comment about anything you'd like. To get more involved, check out our New TAYtorial! Want even more? Take a look at some of the articles on TAY or TAYClassic.

Hello, hello, and welcome to Tuesday's Open Forum. I'll be your host, Tim. First week I'm cross-posting to AniTAY, so be sure to say hello!
How are we all doing this week? Family has been going through some tough crap lately, but I'm keeping a positive outlook and am determined to make today as good as I'm able. Time to be bubbly!
Let's jump right into it. I've got TWO potential questions today (whoaaaaa!) so either take your pick or feel free to answer both (or neither!):
1. Tell us about something you're working on! It doesn't have to be too specific if you don't want to let loose the details.
2. What's a talent you've got that not many people know about? Can you surf and paint? Or can you break into a sweet jam when the beat hits you like Mimey here?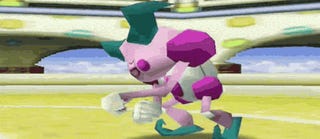 Or, if you don't feel like talking about either of these topics, please feel free to talk about whatever you'd like! It's an Open Forum!