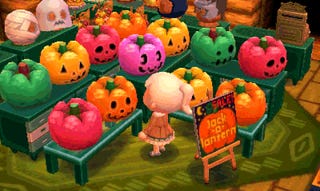 Wouldn't it be great if we could live a peaceful existence in our favorite game world? Unless, of course, it has tons of random encounters and tricky platforming levels.

Hello again, TAY! It's Autumn and my thoughts should be turning to Halloween and the crisp air I enjoy so much this time of year. It's coming I'm told, so I'm trying to kick start these glorious months by asking for participation in our next Theme Week event: Tell us about your favorite video game world.
You're probably wondering what my love of Autumn has to do with the theme for this round but it's simple (and the header gives it away): I'm a sucker for Animal Crossing and how it embraces the world's seasonal weather cycles, but in a much more quaint, manageable and pleasant way. It's one of my favorite video game worlds to get lost in but there are others!

But more importantly, I want to hear all about the video game worlds, towns, villages, underworlds, planets or whichever places that you adore!

So for this Theme Week, I'd like us to write articles about our favorite video game world. Is it comforting because it's cheery? Is it memorable because it's such a challenging place? Does the theme music just make you giddy? Pick a place and tell us why you love it so. If you could live there, would you?

Some Basic Things You Need to Know About Theme Week:
I know that many of you are hard-pressed for time, or not feeling very motivated. It happens. It sure does to me. But I'm hoping we can do something together to encourage our fine fellow TAY'ers that hitting the publish button isn't so daunting. Or that getting to know your fellow TAY'ers a little bit more shouldn't be a scary situation. Or simply to let you all know and each other that all of your contributions matter.

The rules of Theme Week are simple: Write, Art, Discuss, Encourage.
The Theme, as mentioned, is Your Favorite Video Game World. You can write, spark topic discussions or talk about it anyway you like. A poll about the best Final Fantasy village or overworld map, sharing a song with us, whatever!

What else can that something be? Here are ideas and some things to get you started:
It doesn't have to be a 3,000 word essay. It can be a paragraph or two. It can be a topic discussion — some of the easiest ways to engage the community is to put forth a simple question. It can be an invitation to watch you stream a game. It can be a song you want to share. It can be a silly or amazing drawing. A poem. A piece of tasteful satire. A fictional story. A hilarious screenshot with a few words to back it up.

You don't have to have TAY authorship to participate. Maybe you're testing the waters and don't know how to start. This is a great time to try! So how do you get seen? Tag your article with "TAY Classic" and someone will share it over.
No Pressure. The point of Theme Week is to get our creative juices flowing and to have fun. You don't have to participate, TAY. If someone does participate though, the only thing I'd suggest is that we give that person some feedback even in the simplest of ways. A "great article" comment goes a long way, and if you can do more to have a thoughtful discussion with the author, awesome. It's the sort of thing we should be doing as is, theme week or not. I know we don't always have the time to comment but trying is something we can all do..
Let's set this Theme Week to run during the month of October. Theme week runs in conjunction with whatever you want to write or had planned. And again, this isn't mandatory but rather a fun writing prompt for the community to get involved.
Tag your articles with the following, "TAY Theme Week" and "TAY Theme Week: Perfect World", along with whatever other relevant tags.
Most of all: Have fun! Looking forward to what we come up with.
Got questions about how theme week works? Leave 'em below!