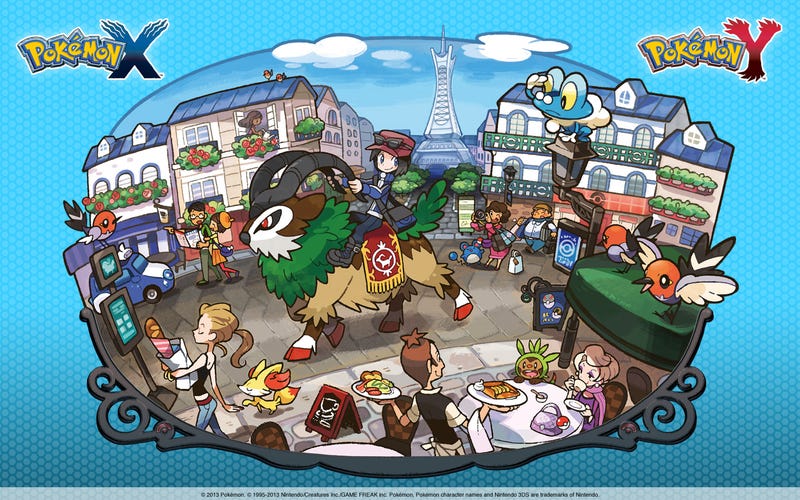 Hello Everyone and Welcombe back to a Super Ultra Mambo-Tango-Foxtrot Shuffle Edition of TAY Time Chat! And why so cool cause it's Monday, more specifically the Monday before Pokemon X/Y Launches Worldwide! So that's 5 days until Saturday October 12th 2013, AKA Columbus Day.
The weekend has gone and we're back to our usual routine, how was it for you people from TAY? I started watching Luther, I have to say it's an interesting show and I'm looking forward to invest some time on it, I also started and finished Attack on Titan, with that one out of the way it's time for some Bakemonogatari!
News Round Up!
Nach's Song of the Day!
Undone (The Sweater Song) by Weezer, from their Self Titled Album Weezer, AKA The Blue Album and maybe the only album that is excellent from start to finish from these guys.
Recomended (Pokemon) View!
The latest from The Game Theorist, strangely related to Pokemon.. I wonder why...
Well I'm off to buy some bread and maybe catch my breath! In the meantime why don't you visit Astro at her Monday Brunch Five days away from PokemonEdition (she'll be back tomorrow around 5PM to host TAY Time Chat) Or visit Morie at the Open Forum to talk about your video game role models, so far I just want to be the very best, so Red is my role model! BTW Talking about Red click here (and change the number at the end of the url for episodes 2, 3 and 4) if you want to relive his first adventure in the glorious Pokemon Origins Special! then you can visit The Off-TAYPic by Sylverfyst in TAY Classic (currently broken [Thanks Google!]) and give him a pat on his back because his team can't win a game (again)...