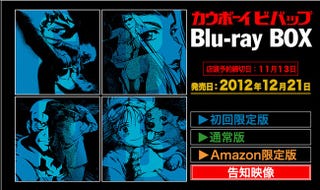 For reals this time... no copypasta, finally a decent TAY Time Chat from Nach!
Hello hello TAY, I'm super tired today T.T spent the day doing some more gardening than usual. Due to the crazy amount of rain we've had in the last few days, the dirt in my house has become a weird sludge that is killing most of my plants, not mentioning the perennial flooding. So today I embarked on the adventure of shoveling out most of the dirt that was beyond useless (read: putrid), and pour in some new soil and replant everything again...
Oh I also want that Cowboy Bebop Bluray Collection :3
News Round Up!
Song of the Day
Going for a change today... I decided to pick Paquito by Los Fabulosos Cadillacs as the song for today ^^
Thanks everyone! Feel free to talk amongst yourselves and be sure to check out some of the TAY's other great features: