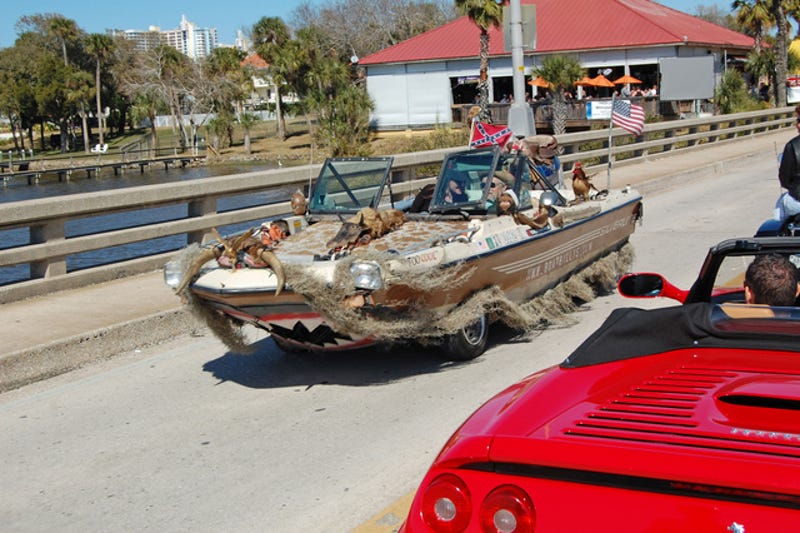 In celebration of my return to the glorious and sunny Florida, today's chat is under the control of the infamous super hero! The one who represents Florida better than any other Floridian! There are some horrible pieces over here so thread with caution, you don't want to be caught by him/her! It's kinda funny while in Florida you never hear of these news, yes there's your crazy outrageous story every now and then but the focus of the rest of America on anything crazy going on in the Sunshine State is kinda funny xD
He's been so, so busy. Here's a roundup of his latest hijinks:
Florida Man Hops Out of Car to Knock Down 70-Year-Old at Crosswalk
Florida Man Tries to Rob Convenience Store Twice With the Same Toy Gun
Florida Man Pours Hot Sauce Over Ill 3-Month-Old Puppy to Shut it Up
(The puppy is fucking adorable and is expected to recover, thank Jove.)
Florida Man Is Shocked to Learn He's Getting a Medal of Honor
Florida Man Calls His Ex 145 Times in 11 Hours, Threatens to Blow Up Her Office
Florida Man Linked by DNA to 23-Year-Old Murder Case
Florida Man Streaks Through Upscale Neighborhood
Florida Man Streaks Across Causeway From Beach to Miami
Florida Man Overcomes Fear of Spiders By Tattooing Spider on His Face
(Blind) Florida Man Gets His Guns Back After Shooting Friend to Death
Florida Man Is Running For Congress at Age 101
Also:
Florida Woman Fails Sobriety Test While Wearing No Pants or Underwear
Florida Woman Asks 911 Dispatcher for Sex: "I Haven't Been Penetrated In Years"
Or you could follow him on Twitter!
And what better way to celebrate this post than with one of Florida most prodigious bands!
Oh man... so much filth... I'm feeling sick! So yeah go on hate me for breaking TAY xD I promise I won't ever attempt something like this edition of TAY Time Chat.

A quick update on the Revolution Magica, El Presidente will be visiting us tomorrow... ah yes! It's going to be awesome!