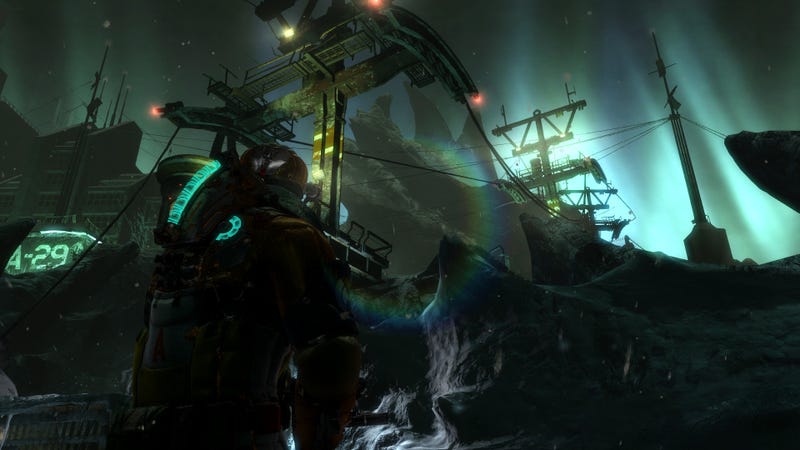 Happy Birthday To My Beautiful Wife!
So, almost no gaming for poor ol' Datacide this week. I had volunteered to do "some" work for a fundraiser for the parent council at Xander's elementary school. "Some" work ended up being most of last weekend and all this past week until Wednesday night. Then I had to prepare some stuff for my wife's birthday on Friday and that brings us to today. My wife and I had a touching and memorable time at the DMV getting her health card updated, her driver's license updated, and a new validation sticker for the car. Nothing says "Happy Birthday" like shelling out $170 for your car privileges. We did redeem the day with a wonderful dinner at a local restaurant and spending time together as a family.
I did have a single chance to game last week on Wednesday night to play more of my Dead Space 3 game with my friend on our weekly game night. I think my liking for the game was tempered a little with our last session. Maybe because both of us were rather exhausted from a busy week that we forgot to put on our rose coloured glasses, but I think there is a big sag in this section of the game that we are at currently.
The writing in the game is pretty bad and made far worse by the terrible voice work. It is truly awful voice work. I know that a poor script and terribly designed characters can't make an actor's work easy but the performances really stunk up the last chunk of game we played.
Add to this that we did two side-quests that occurred in different locations but were basically carbon-copies of each other in terms of level layout...it didn't make for inspiring gameplay. There were also way too many elevators and airlocks with us standing around doing nothing as we waited for the transitions.
We are out of that section of the game now and into new territory. Hopefully the game picks back up and that the last section isn't a sign of a project that somehow ran out of money, inspiration, or time (or all three).
I really missed my Metro: Last Light game, I was absolutely hooked on the game in my last session. What an amazing atmosphere. Hopefully I'll be able to get into some of that this weekend and some more of The Last Of Us with my wife.
I do have a LOT of TAY to catch up on though. I had a heckuva time with Kotaku and TAY this week with Internet Explorer and have reverted to Chrome until Kinja finishes its latest fits. Looks like there was some amazing articles this week.
So what are you playing this weekend? New Zelda, new Xbox One, PS4...so many new choices it is overwhelming. Have fun no matter what you are doing!