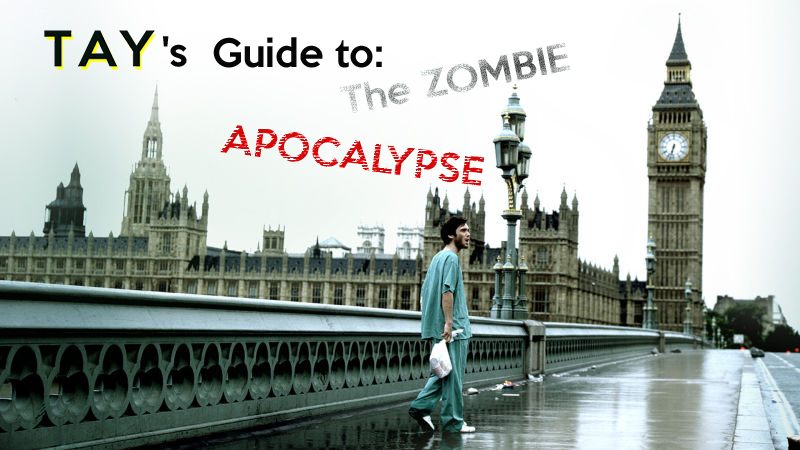 Last week, I secretly collected data from unknowing participants of TAY on how to survive the impending Zombie Apocalypse. I did it because I really just needed to know who I could trust to keep me alive for all of you because I worry about our collective well-being. The advice was shocking.
In the Zombie Apocalypse, TAY Should:
Rely On The Following People for the Best Chances at Survival:
Not Rely on the Following People. At All. If You Want To Live:

Partner Up With (At Your Own Risk):
Make Their Way to:
UI 2.0 — The Mountains. Mysterious enough and no reason given but... okay. Who doesn't trust UI 2.0? Battleborn, don't answer that.
DisturbedShadow — The Wilderness. Away from humans, and straight to the bears. Wait. Oh, right. Bears are our friends here on TAY. We good. Unless, they're zombie bears in which case... DS is also leading us to a trap!

AxelChildofDestiny — Florida. Because even Zombies are afraid of Florida Men. True story. Whether this is solid advice or not, only time will tell. I hope that time never comes.

Bring With Them:
Tetris
Katamari Damacy
No music because won't hear gnawing (or...)

Entire music libraries on the convenience of one iPod
Civilization Games
The Flash
Sonic the Hedgehog (if you can be Sonic, that'd work too)
A Game of Chess
Peggy Carter
One Punch Man
Persona 4: The Golden

Dead of Winter
Binding of Isaac
Edea
Geralt

Beware The One Who Started It All:
Aikage — As if we didn't know this is how the world ends, not with a bang or a whimper but with an Infected Furby.
After compiling TAY's advice, I've determined that...

Yep. We're all doomed.
---
If I forgot someone's advice from last week's forum, let me know! And if anyone would like to offer some other advice, please feel free to leave it in the comments below. You can't possibly mess this up more than what some of your other fellow TAY'ers have already done.

---
You're reading TAY, Kotaku's community-run blog. TAY is written by and for Kotaku readers like you. We write about games, art, culture and everything in between. Want to write with us? Check out our tutorial here and join in. Follow us on Twitter@KoTAYku and Like Us on Facebook.
Follow N. Ho Sang on Twitter at @Zarnyx if you're feeling adventurous, or you can read her articles here.