From the creative minds that brought you an Uncrustable SnackTAYku to be grape jelly over, and the dice rolling joys of TabletopTuesTAYs come a suggestion. Perhaps the 2nd* greatest suggestion in the history of TAYV Movie Night. Get an early start to your 4th of July celebrations with puppets and Team America: World Police.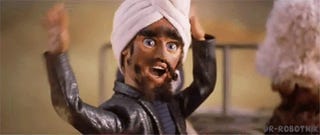 Join us for Team America on TONIGHT, July 3rd starting at 9 p.m. EDT. If you are new to Movie Night, we will meet in the AIM Chatroom where we will celebrate America's Independence through discussions, quips, and gifs. Send a message to Zarnyx or Zarnyx Uriel to be added to the chat. I will be there around 8:30 p.m. EDT.
Hope to see you there.
*Friends Forever with Dragon Sound and Miami Connection will forever remain the most awesome in most everyone's heart. Right, Chero? XD
Special thanks to McFist and LoserM for the suggestion.