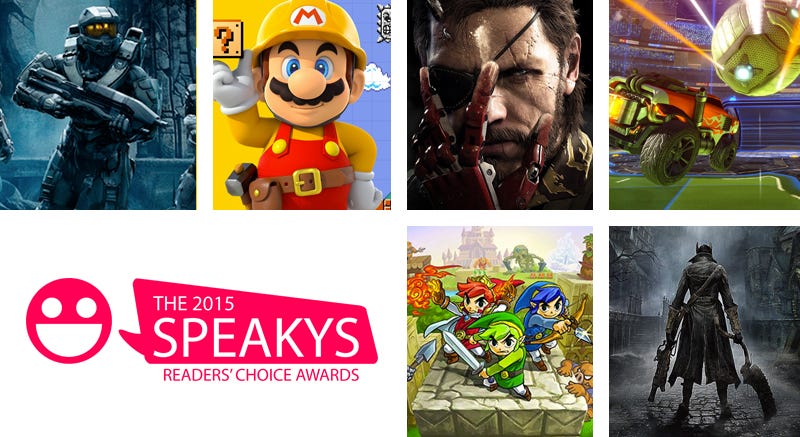 It's that time of year again. The Kotaku and TAY readers' choice awards have returned! 2015 was a big year full of pretty pixels and must have titles. Which were your favorites?
For those who don't know, The Speakys are reader run awards I organize every year to poll the general reader base of Kotaku and Talk Amongst Yourselves on their favorite titles of the past year. It's very interesting to see what games are crowned the best of their respective categories.
The Speakys are a bit different than your normal "Game of the Year" poll as we have two rounds. This is round one, where everyone votes for their favorite titles from each console, as well as multiplatform titles, and a few other categories. The top two winners of round one in each category will be your selection for our official GOTY vote, which is what you vote on in round two.
Before someone goes into an uncontrollable rage about half the "exclusive" titles on the lists below, let me go over a few special notes that apply to this round. It took me and a few volunteer buddies a good while to cobble together what we felt was an appropriate list of games from this past year and we had to set a couple of funky rules in place to do so.
1. A large portion of the voting is based on console exclusive titles, meaning games that came to a console AND PC are listed under said console. That's why Rocket League is under PS4 and Ori and the Blind Forest is under Xbox One. Yes, they come to both a console and PC, but if you wanted to play them on a console in 2015, you had to use that dedicated gaming machine.
2. PSN shares a lot of exclusive games between PS4 and Vita, so instead of dropping them all under multiplatform they are simply on both PS4 and Vita lists. I know that seems like a cop out, and kind strays away from the whole exclusivity aspect, but it works much better this way.
3. The last three categories don't have options because they are too large or subjective. It's hard enough to find and list all the console titles of the year without having to dive into every PC title released on Steam. Underrated and best soundtrack could also have a list a mile long, so you're going to have to come up with those on your own if you feel obligated to vote.
I'm sure plenty of folks will bypass this part of the article completely and jump right to voting and then angry commenting, but... I tried, right? I'm sorry if you don't like the way the voting works, but I find it's easier to break it down like this then give one enormous list of every game from 2015.
That's all there is to it! So vote away, and if you have any questions check the FAQ or let me know in the comments below.

If you're on a mobile device you may find it's easier to vote via this direct link.
UPDATE: Round One voting is now closed. Results will be posted Monday, January 11.
FAQ:
Why are the awards called "The Speakys"?
When these awards first began in 2011 I introduced them in the Kotaku forum known as "Speak Up". The Speak Up forum was merged with TAY in the spring of 2013 and no longer exists. But since the gamers who read Kotaku still have a tendency to "speak up" about their opinions when it comes to games they love I've kept the name.
It's 2016, why are these "The 2015" Speakys?
Because all the games came out and were played in 2015.
What games have won in the past?

2011 - GOTY: Skyrim, Runner-Up: Portal 2
2012 - GOTY: Borderlands 2, Runner-Up: The Walking Dead
2013 - GOTY: The Last of Us, Runner-Up: The Legend of Zelda: A Link Between Worlds
2014 - GOTY: Dragon Age Inquisition, Runner up: Super Smash Bros for Wii U
When will you post "Round One" results for this year?
Round One results will be posted Monday, January 11. Round Two voting (for the overall GOTY) will also start this day.
Hold on a minute... why are old games like Uncharted and Borderlands on the list again this year?
I contemplated leaving out all remastered and updated games, but in the end (despite being reworked or improved games of the past) they came out this year and I feel they deserve a spot. If you played them again and they still kick ass then they deserve a spot.
You forgot to put my favorite game on the list. Why do you hate me?
I didn't mean to forget your favorite game. My crew scoured the internet for exclusives and multiplatform titles, but we may have missed a few. Also, you can just write in any game. So quit whining and do that.
Can I just write in a bunch of joke answers or games that didn't come out in 2015?

Please don't do that. You can, but you shouldn't. Though I'm sure some people will...
---
You're reading TAY, Kotaku's community-run blog. TAY is written by and for Kotaku readers like you. We write about games, art, culture and everything in between. Want to write with us? Check out our tutorial here and join in.

For more gaming fun and Speakys updates you can follow GBD on Twitter @SuperBentendo