'You are who you choose to be'. This is for you, the late night/early birds/ future warriors!
Didn't expect to see this metallic misunderstood brobot? Either way, welcome back to your second (third or fourth...) taste of TAY:Open Forum otherwise know as the Graveyard shift, with the main purpose of letting all discuss what their hearts desire. Let get started!
Tonight's Shift hits...Right in the heart
First off, if this film doesn't leave you reaching for a tissue box, then truly your heart is colder, and made of a stronger alloy than mines.
The Iron Giant, is based (changed a lot) on Ted Hughes book, and directed by Brad Bird. I didn't read the book (Did you : / ?) it was based off, but in short without spoiling; U.S & U.S.S.R become Cold War buddies.
Boxed office? Movie theater? HA HA. No. This movie was enjoyed with all the wonders of limited commercial interruptions, and comforts of bed. But neither of those drawbacks(now unbearable) really took me away from watching(one of many) a gigantic metal brobot come hurling down into the middle of a storm off the coast of Maine.
Confused/damaged, and not knowing who or what he is, he did what came on instinct; it must feed.
In the distance a bright glow and the scent of metal drew it near, and just when he was about to get his fill disaster struck...the brobot (Okay in the film Hogarth call him Giant, but I like calling him brobot) was dying. Lucky a meatbag came to his recuse!
The Giant (okay I'll stop calling him brobot) knew its life was spared, and this organic form could provide the answers of what or rather who he is.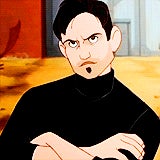 Much hilarity ensues, and Harry Connick Junior makes a guest appearance.
But more serious, it really struck to realize the fate of Hogarth's father. It really was 1957 and nuclear annihilation a possibility. Dean (Harry C. Junior) tries to fill that void, but doesn't quite fit that strong role model Hogarth's father was (a test pilot). This in my view, left Hogarth to become a father figure to the Giant. And in the process he himself has to grow up and realize who he wants to be.
Nearing the end of the film (as my young self) the message 'you are who I choose to be' is made clear through the Giant. Designed to obliterate, and conquest (one Giant was sent to earth FYI) the Giant developed a conscious and a self (permanent). In that moment he decided who he was and who he will be.
And as he went up skywards, into the void...his voice echoed (in my head) 'You are who you choose to be'.
That message hasn't left me ever since, and this film is a great reminder of how we are in control of the kind of person we choose to be. Regardless of what we do or not do.
Thank you for reading this far!
Do you remember the Iron Giant? Or was it another film that made you sob? What's that? You don't cry, because you have balls of steel? Well, have your say or not, its now or never!
Other than that...this concludes the first Right in the hearts shift ...
To be continued.
*The Graveyard shift is not responsible for your late night procrastination, job loss, and failing grades. Don't forget to head over to TAY for the the Open Forum. Or TAYClassic for all your shenanigans

Also check it out, we have a contact page! contayct-list Just Read TuT post and you'll be fine.