"We think this is what is called 'TAY'...Yes, this is a wonderful 'TAY' its very cosmic. " Well this is for you, the Late Night/Early Birds/ Future Warriors!
Hello inhabitants of TAY from whatever corner of the galaxy you may be typing from! Welcome to the Sign-Off for the the weekend. But before anything, just gonna make sure you guys know there are helpful links below the usual video, and other goodies relating to what goes around TAY. Okay then, lets Sign-Off!
We Sign-Off with... The Weekends Rolls!
Just made that bit up, so don't ask what it means...interpreted as you will. I also did NOT totally forget to schedule this post before I went to see Elysium ;>_>
But yes, as your eyes might have hurtfully noticed, The King of The Cosmos is who that is (Katamari Damacy 04). Yes, whether destroying our galaxy in a drunken haze, causing global disasters or TEARING THE VERY FABRIC OF UNIVERSE ITSELF! You can always count on The King of The Cosmos to send the Prince to fix the mess.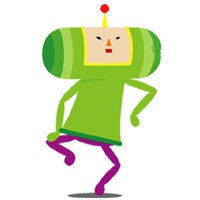 Just roll all those daddy issues away.....
Or his many cousins for that matter. Is not like we don't trust the Prince or assume that he will fail. But its always good to have insurance, after all we are dealing with the creation of heavenly beings themselves! That is, if everything in space is currently made up of everyday stuff that's lays around the neighborhood or random children for that matter...
Yes, we Love Katamari Damacy for its simplicity for rolling up stuff up with your katamari ball. All in the endless goal (not really) to consume the world. And to please the hard to please King Of The Cosmos who is really a jerk...
Oh well either way, how is everyone? Had a good week? No? You don't love Katamari? How heartless.... Either way, feel free to rant, roll about, collect stuff, and be disappointing about life and games. All before the weekend roll us by...
Nah-Nah
The Graveyard shift is not responsible for your late night procrastination, job loss, and for the lack of double rainbows. Don't forget TAY for the TAY:Open Forum. Or TAYClassic for the old type of writing.