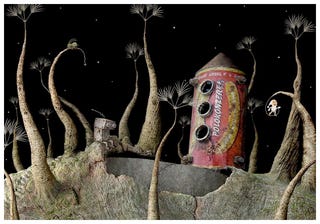 Track: Samorost Outro I | Game: Samorost 2 | Composer: Tomáš Dvořák.
Samorost 2 is the sequel of the indie web browser game Samorost developed by Amanita Design, a Czech independent video game developer (famous for developing Machinarium). Much like its prequel, Samorost 2 is a point and click adventure, in which the Gnome explores the space in search of his kidnapped dog. This song is extracted from the moment the Gnome escapes from the alien base after rescuing his dog and just before getting stranded in another alien planet cause his ship ran out of fuel...

---
Forgotten Cadences examines the less celebrated, but always unusual sounds of video game music.