Re-used images, double the shame from last week's shame! Shame me!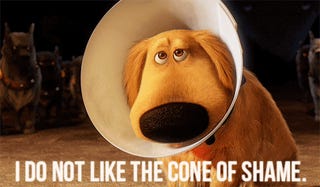 So remember how I was praising Pillars of Eternity last week for being rad and how I don't regret my purchase at all? Haven't touched it. Totally untouched. God I'm the worst. Upside, I've gotten lots of video work done and finally got around to finishing Log Horizon 2! Downside, SHAME. *Audible sigh* My work schedule has officially shifted over to 10 AM to 7 PM, so my nights are ever so slightly shorter now, and I tend to spend at least an hour or so with LadyRer each night before she goes to bed. I'm not necessarily complaining, I think it's probably for the better, but it's just impossible to feel "productive" in regards to gaming if I'm not making a video. I need to just pick something and make some mad progress on it this week, but knowing me I'll probably just turn on the stream and dick around instead.
NOT SHAMEFUL STUFF ON TAY:
FOR SHAME RER, AGAIN, Question of the Week:
How many times is Rer going to mess up Thursday's TAY Time Chat?
AHHHHHHHH, SONG OF THE DAY: