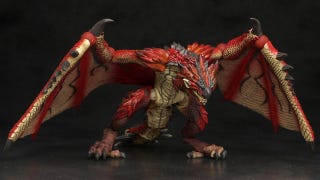 A weekly round-up of all the things you've seen this week that you now have a burning desire to run out and purchase for yourself. Coinciding with my foray into figure collecting that's the theme for my picks this week. Kicking off my selection this week is the Revoltech Rathalos, a highly posable Rathalos action figure that is sadly sold out everywhere.
And it even comes with tail cutting action too...
From fire breathing wyverns we go to moe anime girls. My figma Kirino needs a friend, so I've been looking at Kuroneko figures. I don't like her figma version and so this is the only figure I've found that I like so far.
However with season 2 airing I might just hold out and see if any more eye-catching figures are released. But this is in stock now... and if I wait and nothing else is released... it's a tough call. Finally there's this super cute Fate figure, way too tempting...
So, share your deepest darkest material desires. Whatever they might be. Uh, within reason of course.