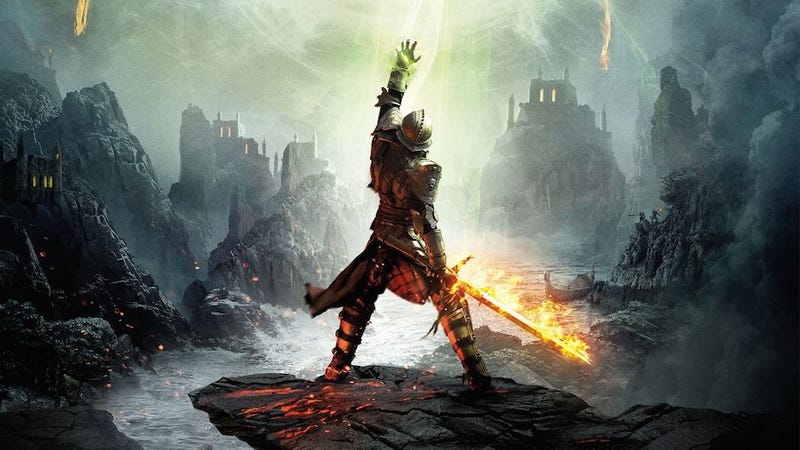 Hey everyone! Are you all as hyped as I am for the Inquisition? Sure you are!
I thought we could pass the time until launch and totally not think about our 25 page research papers by sharing some of our stories about Dragon Age. When did you first play Dragon Age? Were you instantly hooked from launch, or did you pick up a good deal a few years down the line? How did you feel about the sequel? What kind of decisions did you make in your games, and who are you planning to be in DA3?
I picked up Origins on launch I believe, or at least near it. I loved it, but I wasn't too keen on the combat at the time. Now that I've gotten a little older, I've come to appreciate the tactical nature of it a bit more (helps when playing on a gaming quality PC instead of a controller too :D ). My warden that is getting imported into DA3 was a female Dalish Elf rogue, mostly diplomatic and went for the best way to resolve a situation that hurt the least amount of people possible. I kept all my party members alive, supported the mages at the circle, killed the archdemon myself, and of course romanced the ever-awkward Alistair who had to have a demon baby with Morrigan so I could live. In the expansion, I killed the Architect.
My Hawke in Dragon Age 2 was a smartass wily wily rogue who made jokes at every occasion and was much more detached from his situations. He primarily went with decisions that would get him money, but he also grew close to all his party members and romanced the equally-dashing Isabella, and was a good guy when push came to shove. I quite enjoyed the gameplay and characters of DA2, but the overall story was a total drag. It more or less seemed like a game about a guy who did stuff, and just happened to become a hero by accident, and was clearly rushed. Still, I'm fond of the characters and still feel like it was a decent sequel.
In Dragon Age 3 I plan on continuing the rogue tradition. I'm leaning towards a male and going after a romance with the awesome and attractive Cassandra.
So! C'mon everyone, share your stories and get hype!