Luis Suarez... I knew you wouldn't let me down. If you've been living under a rock for the past 24 hours, you may have missed the latest mischief of Uruguay's sneaky striker and consequently how the internet reacted to his actions.
My favorite reaction comes from the official McDonald's of Uruguay Twitter account:
"Hello @luis16suarez if you're still hungry come grab a bite of a Big Mac ;)"
Moving on, It's Day 14!
...
Oh wait forgot to mention, Ivory Coast blew their chances in the most nefarious way, they needed just one point, which is an easy task when facing a Greek side who tend to shoot themselves in the foot repeatedly and have failed to score a goal in years. Les Éléphantes were cruising to the Knockout Stage when this happened...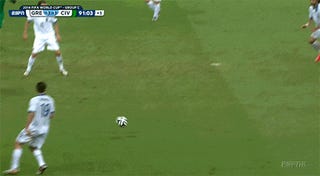 Giovani Sio gave The Pirates a lifeline on the second minute of stoppage time, as he fouled Georgios Samaras in the penalty area. You could feel the tension in the air, the dejected faces of the Ivorians as they faced the elimination. No one in the Greek team wanted to take the shot, the ball traveled by each of their players until it landed on the number 7, Samaras. He steps up to the penalty spot, takes a breath, meanwhile, the goalkeeper challenges and screams at him. Greece won 2- 1... A Contemporary Greek Drama.
---
Now Moving on (for reals this time), Day 14 Packs a punch and not much of a bite, cause The 8% Conversion Rate Argentina faces Nigeria, the only team who has kept a clean sheet in the Tournament. Can Lionel Messi finally muster his team mates to work... well as a team? Or will the Super Eagles rise over the Albiceleste sky?
What happens if Argentina actually beats Nigeria? Well, they will win the group with a perfect record, and give the Iranians a reason to fight for their life and a spot in the Knockout Stage! Iran will have to do their part though, and beating Bosnia shouldn't be a difficult task.
But the real heavy plate comes at 4PM EST. Please no more Luis Suarez jokes, I'm pretty sure he's still full after yesterday's Italian meat course.
Group E, one of the few groups where all the contenders still have a chance to make it to the second round! Now bear with me this is a bit confusing since there are infinite of possible scenarios:
France should secure their spot with a victory or a draw against Ecuador.
Ecuador needs to win their game or a draw and Switzerland to lose or draw their match against Honduras.
Switzerland can make the Knockout Stage if they beat Honduras, or if they draw then they need French to beat the Ecuadorians.
Finally Honduras will qualify to the second round if and only if they win their game against Switzerland and France finishes off Ecuador.
So yeah, anything can happen in Group E, and did you know, France can actually miss out?! Yes if they loose their game aagainst Ecuador by a large margin of goals and Switzerland wins by a large margin of goals then the Les Bleus will bid Adieu a la Coupe du Monde! Au Revoir!
Matches for today:
12:00 PM EST: Nigeria vs Argentina @ Estádio Beira-Rio, Porto Alegre.
My Prediction:
Nigeria 1 - 2 Argentina
12:00 PM EST: Bosnia & Herzegovina vs Iran @ Arena Fonte Nova, Salvador.
My prediction:
Bosnia & Herzegovina 0 - 1 Iran
4:00 PM EST: Honduras vs Switzerland @ Arena Amazônia, Manaus.
My prediction:
Honduras 2 - 1 Switzerland
4:00 PM EST: Ecuador vs France @ Estádio Maracanã, Rio de Janeiro.
My prediction:
Ecuador 1 - 2 France
To make things a bit more interesting... a point will be awarded to those who get the results right and two extra points for each correct scoreline. Feeling lucky? Then make a bold prediction and win an extra point for each one you get right like Iran making it to the second round only to be shot down by the Ramadan =/
So TAY what are your predictions for today's matches?

I took the liberty to create a spreadsheet (still on the early stages) to make it easier to keep track of our records... anyway, if you want to access it, just click here.