Day 3 is over... and although it wasn't as impressive as Day 2, it still brought us a couple of juicy tidbits. First one is a lesson, you should never field an geriatric-bound Diego Forlan as the centerpiece of your attacking midfield. The second one comes as a consequence of fielding a geriatric-bound Diego Forlan as the centerpiece of your attacking midfield, as Costa Rica stunned Uruguay in such an emphatic way. No one could have predicted that result!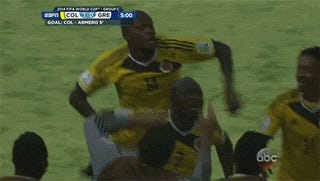 What else happened on Day 3? Well... Colombia showed Greece how falling from Mt. Olympus must feel like, as they outscored them by three goals to nil (They also taught the world some funky dance moves)! From 7PM to 8PM we saw how Italy still has a bit of that Cattenaccio spirit in their squad, even if Cesare Prandelli insists his team doesn't focus on defensive football. Also England lost their physio to an ankle injury, talk about a bad omen. And on the last game of the night a talisman arrived in the nick of time, as Didier Drogba of Ivory Coast, changed the fortunes of his side as soon as he took his first step on the pitch!
But hey, we had enough of the past... it is time to look at the future. Today at the lunch time kick off, Switzerland who came up undefeated in the qualification stage by winning nine out of ten games, will face Ecuador, a team who rarely performs away from the tall mountains of Quito. Les Bleus of Didier Deschams may not have Franc Ribery on their side, may have shunned the crybaby of Samir Nasri, but they won't surrender to the disciplined, yet uni-dimensional squad of Honduras.
The dinner time is full of heavy weights, and the Maracanã in Rio de Janerio is the perfect stage to host a massive banquet. La Albiceleste of Lio Messi, Aguero and many more offensive players (and not a single speck of defensive football) clashes with a newcomer, Bosnia & Herzegovina, a team who scored 30 goals in ten games! 30 goals in seven victories and three draws! Woof!
Matches for today:
12:00 PM EST: Switzerland vs Ecuador @ Estádio Nacional de Brasilia, Brasília.
My Prediction:
Switzerland 2 - 1 Ecuador
3:00 PM EST: France vs Costa Rica @ EEstádio Beira-Rio, Porto Alegre.
My prediction:
France 3 - 0 Honduras
6:00 PM EST: Argentina vs Bosnia & Herzegovina @ Estádio Maracanã, Rio de Janeiro.
My prediction:
Argentina 3 - 1 Bosnia & Herzegovina
To make things a bit more interesting... a point will be awarded to those who get the results right and two extra points for each correct scoreline. Feeling lucky? Then make a bold prediction and win an extra point for each one you get right, like Messi not scoring today, Sergio Romero keeping a clean sheet, or what about France actually surrendering before the match even begins!
So TAY what are your predictions for today's matches?

I took the liberty to create a spreadsheet (still on the early stages) to make it easier to keep track of our records... anyway, if you want to access it, just click here.